September 21, 2021, Metro Manila, Philippines: Active promotion of the ASEAN capital market as an asset class and potential initiatives to advance sustainability were among the matters discussed at the 33rd ASEAN Exchanges CEOs Meeting hosted by The Philippine Stock Exchange, Inc. (PSE).
Following its successful partnership and participation in two virtual conferences this year, the ASEAN Exchanges will continue to pursue conference and roadshow opportunities where it can discuss updates on products, regulation, sustainability and other capital market initiatives. In terms of digital marketing, enhanced content will likewise be continuously displayed on the ASEAN Exchanges website and promoted on social media. In recent months, broker research reports and monthly performance of indices were among the featured content on the ASEAN Exchanges Twitter account.
Initiatives on the sustainability front will commence with the identification of core Environmental, Social, Governance (ESG) metrics in sustainability reports among the exchanges. The ESG working group formed after the 32nd ASEAN Exchanges CEOs Meeting is spearheading this activity.
Speaking on behalf of the ASEAN Exchanges, PSE President and CEO Ramon S. Monzon said, "We will aim for a more consistent presence on all available platforms so that the ASEAN Exchanges will be a top of mind investment choice among investors. With sustainability as an important investment consideration, we are working towards a common sustainability program to attract even more investor interest."
ABOUT ASEAN Exchanges
ASEAN Exchanges is a collaboration of seven exchanges from six countries comprising Indonesia, Malaysia, Philippines, Singapore, Thailand and Vietnam. The collaboration aims to promote the growth of the ASEAN capital market by driving cross-border collaboration, streamlining access to ASEAN, creating ASEAN centric products and implementing targeted promotional initiatives.
The ASEAN Exchanges collaboration CEOs are Datuk Muhamad Umar Swift of Bursa Malaysia, Nguyen Anh Phong of Hanoi Stock Exchange, Le Hai Tra of Hochiminh Stock Exchange, Inarno Djajadi of Indonesia Stock Exchange, Ramon S. Monzon of The Philippine Stock Exchange, Inc., Loh Boon Chye of Singapore Exchange, and Dr. Pakorn Peetathawatchai of The Stock Exchange of Thailand.
Bursa Malaysia Berhad
Ashraff Taharim
Group Strategic Communications
Tel: 603 2034 7348
Mobile: +6019 269 0049
Email: ashrafft@bursamalaysia.com
Hanoi Stock Exchange
Tran Minh Giang
Head, Strategy & New Products Department
Tel: (+84-4) 3941 2626
Fax: (+84-8) 3934 7818
Mobile: (+84) 912878486
E-mail: giang.tran@hnx.vn
Hochiminh Stock Exchange
Lai Thi Thu Ha
Associate Vice President, Corporate Communication Department
Tel: (+84-8) 3821 7713 – 2003
Fax: (+84-8) 3821 7452
E-mail: qhcc@hsx.vn
Indonesia Stock Exchange
Yulianto Aji Sadono
Corporate Secretary
Tel: +6221-515-0515
E-mail: corsec@idx.co.id
The Philippine Stock Exchange, Inc.
Martha H. Vinzons
Head, Corporate Communications Department
Tel: +632 8876 4860
E-mail: mhvinzons@pse.com.ph
Singapore Exchange Ltd
Chin May Nah
Vice President, Head of Media Communications
Marketing & Communications
Tel. +65-6713-6327
E-mail: maynah.chin@sgx.com
The Stock Exchange of Thailand
Kanokwan Khemmalai
Head, Corporate Communications Department
Tel.: +662-009-9478
E-mail: SETCorporateCommunications@set.or.th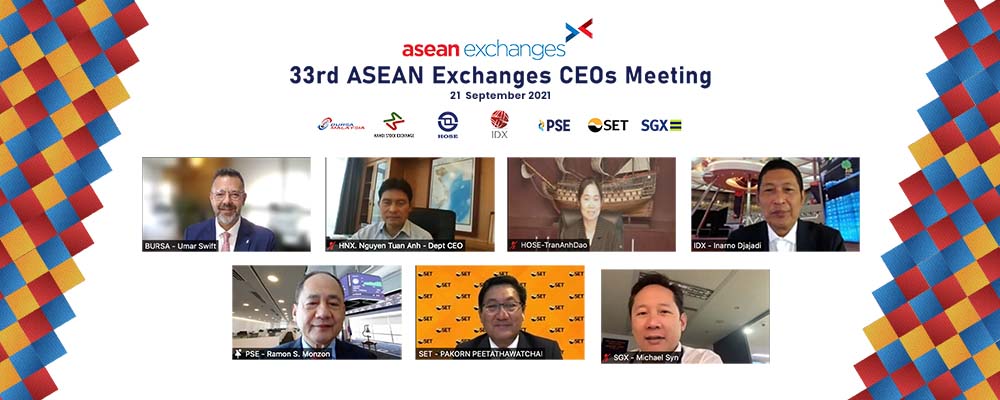 Photo 1 shows from left, by row: Bursa Malaysia Chief Executive Officer Datuk Muhamad Umar Swift, Hanoi Stock Exchange Deputy Chief Executive Officer Mr. Nguyen Tuan Anh, Ho Chi Minh Stock Exchange Executive Vice President Ms. Tran Anh Dao, Indonesia Stock Exchange President Director Inarno Djajadi; The Philippine Stock Exchange, Inc. President and CEO Ramon S. Monzon, The Stock Exchange of Thailand President Dr. Pakorn Peetathawatchai, Singapore Exchange Senior Managing Director and Head of Equities Michael Syn.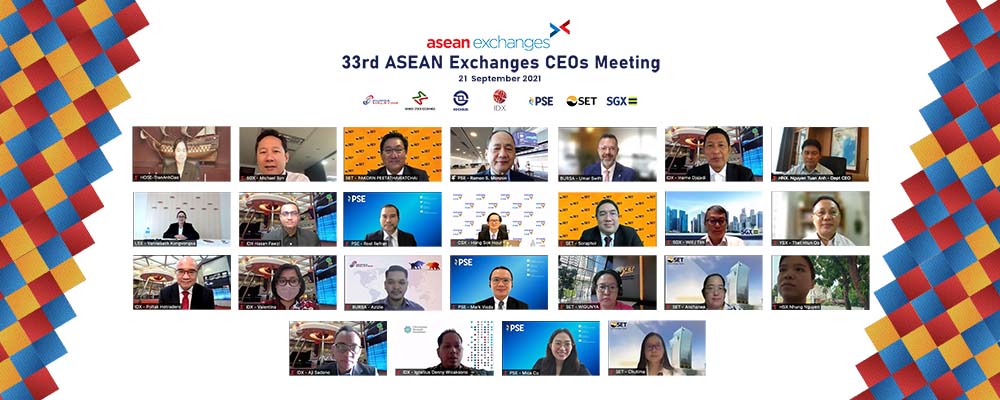 Photo 2 shows Exchange CEOs and representatives at the 33rd ASEAN Exchanges CEOs meeting